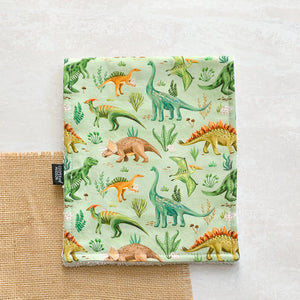 Cooper and Hudson Burp Cloths are made from 100% cotton front and towelling backing.
They are super stylish, very generous size and practical for your little one.
Size: 50cm length x 20cm width
These are approximate measurements as all burp cloths are handmade there may be slight differences.
Pattern placement will differ slightly in each product.
*All products are made to order so please allow 2-3 week turnaround. 
This is exclusive of postage. 
Delivery times may vary.
SUPERVISE WEAR AT ALL TIMES.
Never leave child unattended whilst using burp cloths.
Please note that bright and vibrant colours should be separated from light clothing when washing.
Foil fabrics will fade over time, to keep the colour as vibrant as possible cold machine wash in a wash bag and dry out of direct sunlight. 
Do not tumble dry. 
For a more gentle wash hand wash items and dry in shade.