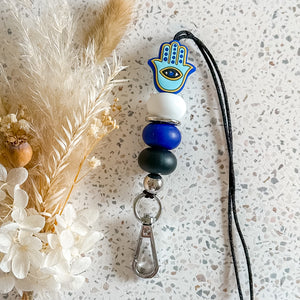 Our Lanyards are the perfect way brighten up an outfit and to keep your keys handy without having to hold them.
The Hamsa Hand is a universal sign of protection, power, and strength.
Find my matching Keyring to make a set.
They are made from a mixture of BPA free Silicone Beads, Acrylic Beads/Coins and Beech Wood Beads.
We use high quality 50mm clips on our Lanyards.
2mm Nylon Cord 
These products are not toys.